Programm 2
Margarita With A Straw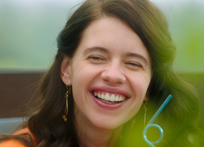 Indien 2014
R: Shonali Bose, D: Kalki Koechlin, Sayani Gupta, Spielfilm, OmU, 100 Min.
Laila ist eine junge, kreative und begabte Studentin an der Uni in Delhi. Sie ist spastisch gelähmt und auf den Rollstuhl angewiesen. Und sie möchte tun und lassen, was sie will, sich (auch sexuell) ausprobieren. Nach der Zurückweisung durch den Leadsänger der Collegeband, ist die Freude riesig, als sie ein Stipendium für ein Semester an der Uni in New York erhält, wohin sie mit ihrer Mutter zieht.
In ihrer Literaturklasse ist Jared, zu dem sie sich hingezogen fühlt. Sie verliebt sich aber in Khanum, eine blinde Aktivistin, mit der sie eine Beziehung hat. Auf der Suche nach ihrer sexuellen Identität gesteht sie sich und später in Indien ihrer Mutter gegenüber ein, dass sie bisexuell ist.
International gab es viel Lob für diesen wunderbar warmherzigen Film, vor allem für Kalki Koechlins brilliante Schauspielleistung. (Queerstreifen Münster)
Auszeichnungen (Auswahl)
2014 Filmfestival Tallin: Beste Schauspielerin
2015 Frameline, San Francisco: Publikumspreis bester Spielfilm
2015 lsf hamburg: GLOBOLA (Publikumspreis für den besten Spielfilm)
Koechlin setzt sich in Indien öffentlich für die Gleichstellung der Geschlechter und gegen Prostitution ein. Sie gehört heute zu den bekanntesten Schauspielerinnen in Indien.
English: Laila (Kalki Koechelin) is a teenager with cerebral palsy who uses a wheelchair. She is a student at Delhi University and an aspiring writer who writes lyrics and creates electronic sounds for an indie band at the university. Laila falls for the lead singer of the college band and is heartbroken when she is rejected. She soon overcomes this phase, when she gets a scholarship for a semester at New York University and moves there with her mother (Revathi). Living in Manhattan, she meets an attractive young man named Jared (William Moseley) in her creative writing class, who is assigned to help her typing. She also meets the fiery young activist Khanum (Sayani Gupta), a blind girl, whom she later falls in love with. As she embarks on a journey of sexual discovery, she figures out she is bisexual, as she feels attracted to men like Jared in spite of being with Khanum. Laila's mother, believing the two are like best friends, invites her to Delhi to spend the winter break with the family. It is during that time that Laila finds the courage to tell her mother about her sexuality and her relationship with Khanum.
Awards: 2014 Filmfestival Tallin – best actress, 2015 Frameline, San Francisco – audience award, 2015 lsf Hamburg - GLOBOLA audience award.
Koechlin is a famous actress in India. She campaigns against prostitution and stands up for gender equality.