Programm



Di, 13. November 2012, 21:00 Uhr
Sa, 17. November 2012, 21:00 Uhr
---
Slow Burn · Desert Hearts
---
Slow Burn
Kanada 2012, digital, 14 Min., OmU
R: Christine Chew
Ein Western im Winter.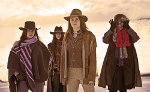 Eine mysteriöse Fremde mit einer unklaren Vergangenheit, will ihren Start in ein neues Leben mit ihrem ersten Tattoo besiegeln. Sie trifft auf zwei Tattoo Zeichnerinnen, die sich sofort in Sie verlieben. Ganz in der Western Tradition, kämpfen die beiden Tätowiererinnen um das Privileg, ihrer Angebeteten das erste Tattoo entwerfen zu dürfen.
English: A Western in winter.
A mysterious stranger with an unknown past, wishes to mark her start in a new life with her first tattoo. She meets two tattoo artists who immediately fall in love with her. Wholly in their Western tradition, the two tattooists fight it out to see who earns the privilege of being allowed to design the first tattoo for their beloved stranger.
---
Desert Hearts
USA 1985, digital, 96 Min., dt. Fassung
R: Donna Deitch, D: Helen Shaver, Patricia Charbonneau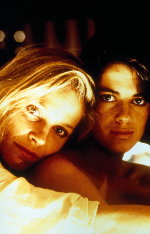 Der Klassiker aus den 80er Jahren nach dem wunderbaren Roman Desert of the Heart von Jane Rule aus dem Jahr 1964 endlich wieder auf Leinwand!
Vivian Bell, eine Professorin der Columbia University reist nach Reno, Nevada um sich scheiden zu lassen. Dort begegnet sie Cay Rivers, die in einem Casino jobbt und offen lesbisch lebt, und das im Jahr 1959! Vivian und Cay, 10 Jahre Altersunterschied, Stadt und Land, Professorin und "Cowgirl", ruhig und extrovertiert, viele Hürden und dennoch.. eine große Anziehung.
Eine intensive Liebesgeschichte mit wunderschönen Bildern aus der Wüste Nevadas. Dazu der Soundtrack von Patsy Cline, Buddy Holly, Elvis Presley, Patti Page und Ella Fitzgerald.
Viele werden sich noch daran erinnern, als Desert Hearts in den späten Achtzigern in Deutschland anlief. 2007 betitelte das Outfest in Los Angeles den Film: "One of 25 Films that changed our lives". Ob's so war, muss jede für sich entscheiden, aber eines steht fest, Deserts Hearts hat viele von uns bewegt und kann noch heute überzeugen mit starken Charakteren und einer stimmigen Geschichte.
Donna Deitch war in den vergangenen Jahren als Regisseurin für Serien wie Heroes, Grey's Anatomy und Crossing Jordan tätig. Und wie zu lesen ist, arbeitet Donna Deitch aktuell an einer Fortsetzung zu ... Desert Hearts.
English: A classic from the 1980s based on the wonderful novel Desert of the Heart by Jane Rule written in 1964 finally returns to the big screen!
Vivian Bell, a professor at Columbia University travels to Reno, Nevada to get a divorce. There she meets Cay Rivers who works in a casino and lives openly as a lesbian, in 1959! Vivian and Cay, 10 years age-difference between them, city and country, professor and 'cowgirl', placid and extrovert, many hurdles, and even so ... a stark attraction.
An intensive love story with superb shots in the desert scenery of Nevada. Including a wonderful soundtrack with Patsy Cline, Buddy Holly, Elvis Presley, Patti Page and Ella Fitzgerald.
Many viewers will perhaps recall the occasion when Desert Hearts opened in the late Eighties in Germany. In 2007, the Outfest in Los Angeles called the movie: "One of 25 films that changed our lives". Whether this is so, is a personal choice, but one thing is certain, Deserts Hearts touched and inspired many of us and it is still persuasive with well-defined characters and a coherent storyline.
In the last few years, Donna Deitch was active as a director for series such as Heroes, Grey's Anatomy and Crossing Jordan. And as has been recently stated, Donna Deitch is currently working on a sequel to Desert Hearts.
www.donnadeitch.com
Foto: © PRO-FUN MEDIA
---