Programm



Mo, 12. November 2012, 19:00 Uhr
Fr, 16. November 2012, 21:00 Uhr
---
James Dean · Man for a day
---
James Dean
GB 2010, digital, 8 Min., OmU
R: Lucy Asten Elliott
Bei den langwierigen Vorbereitungen zu einem Familienausflug lüftet Alex in JAMES DEAN kurzerhand ihr Geheimnis.
English: During the prolonged preparations for a family outing, Alex suddenly uncovers her secret in JAMES DEAN.
---
Man for a day
D 2012, digital, 96 Min., engl/dt OmU
R: Katarina Peters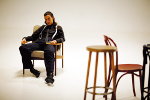 Die weltweiten Auftritte und Workshops der Gender-Aktivistin und Performance-Künstlerin Diane Torr sind legendär.
Was macht einen Mann zum Mann, was eine Frau zur Frau? Wo und wann wird die geschlechtliche Identität formatiert? Was ist natürlich, was ist antrainiert? Jeder von Torrs Workshops ist ein spannendes, soziales Experiment mit offenem Ausgang: Ist es möglich, über das selbst-bewusste Durchspielen unterschiedlicher Rollenmuster Freiheiten zu schaffen und Grenzen zu überschreiten?
Der Film, der während eines Workshops in Berlin entstand, macht Spaß und törnt an zu mehr!
Diane Torr kommt am Freitag, 16.11. zum Filmgespräch ins Kino.
www.manforaday-film.com
Foto: © Salzgeber & Co. Medien GmbH
Ja, es gibt auch einen MAN FOR A DAY Workshop in München!
Am 2. Bimovie-Wochenende, 17.+18.11. Ob noch Plätze frei sind, ist über www.dianetorr.com zu erfahren.
English: The worldwide appearances and workshops by the gender-activist and performance-artist Diane Torr are legendary.
How does a man react towards another man, and a woman towards a woman? Where and when is gender identity formatted? What is natural, what is artificially acquired? Each of Torr's workshops is an exciting, social experiment with an open-ended outcome: Is it possible, via self-confident simulation to achieve a certain freedom for various behavioural patterns and to transcend current frontiers?
The film came about during a workshop in Berlin, it's fun, and it inspires even more!
Diane Torr will be present on Friday, 16/11/2012 for a film discussion in the cinema.
Yes, there is also a MAN FOR A DAY workshop in Munich! At the 2nd Bimovie weekend (17&18/11), whether workshop vacancies are still available, you can find out at www.dianetorr.com.
---