Programm



So, 11. November 2012, 21:00 Uhr
Do, 15. November 2012, 19:00 Uhr
---
Chained! · Orchids - My intersex adventure
---
Chained!
USA 2010, digital, 14 Min., OF
R: Betsy Kalin, K: Gretchen Warthen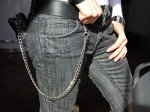 Warum sind Lesben im wörtlichen Sinn angekettet an ihre Schlüsselketten? Von viktorianischen Taschenuhren über extravagante Anzugmode bis hin zum Motorradbedarf dürfen diese Ketten nicht fehlen. In Chained! wird humorvoll und sexy über die Vorlieben dieser kettentragenden Spezies berichtet.
English: Why are lesbians chained in the literal sense to their key-chains? From Victorian pocket watches to extravagant suit fashion, right up to motorbike accessories, such chains must not be lacking. In Chained! we see a humorous and sexy presentation of the preferences of this chain-carrying species.
---
Orchids - My intersex adventure
Australien 2010, Digibeta, 60 Min., OmU
R: Phoebe Hart, K: Bonnie Hart, Phoebe Hart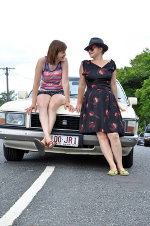 "Ich habe Androgen-Insuffizienz-Syndrom (AIS). Ich bin eine Frau mit 46 XY Chromosomen. Bisher habe ich gegen ungerechtfertigte Kategorisierungen und medizinische Eingriffe gekämpft. Jetzt versuche ich aktiv, ihnen mit so viel Ehrlichkeit und Humor zu begegnen, wie ich ertragen kann. Das ist der Grund, warum ich diesen Film machen wollte.... Ich entschied mich für den Titel Orchids, da diese Zierpflanzen ein besonders starkes Symbol für intersexuelle Menschen sind." Phoebe Hart
Phoebe Harts glückliche Kindheit endet abrupt, als man ihr eröffnet, sie werde weder menstruieren noch jemals Kinder bekommen. Die Gründe dafür werden zum familiären Tabu. Erst als sie 17 Jahre alt ist, klärt die Mutter sie über ihre Intersexualität auf.
Als Dokumentarfilmerin will Phoebe Hart sich mit ihrer Intersexualität mehr anfreunden und begibt sich auf einen filmischen Selbsterkundungs-Trip. Ihre Schwester Bonnie und ihr Mann James unterstützen sie dabei. Zusammen mit Bonnie geht sie auf einen Kamera-Roadtrip quer durch Australien. Auf ihrer Reise sucht sie nach Lebensgeschichten anderer intersexueller Menschen und wächst gemeinsam mit ihnen an den geteilten Erfahrungen.
Preise u.a.: Best Documentary, ATOM Awards and 1st Film at Brisbane International Film Festival 2010, Best Documentary Mix Copenhagen 2012, John Deen Memorial Award Spokane LGBT Film Festival USA 2012, lsf Hamburg 2012, Most Outstanding Documentary, Queer Fruits Film Festival 2012
English: "I have Androgen Insensitivity Syndrome (AIS). I am a woman with 46XY (male) chromosomes. Without a doubt, I have struggled with unwarranted categorisation and medical interference. Wherever possible, I actively seek to disrupt this cataloguing and meddling with as much honesty and humour as I can muster. It's the reason why I wanted to make this film. ... I chose the title, Orchids, as these ornamental flowers are an especially potent symbol for intersex people." Phoebe Hart.
Phoebe's happy and carefree childhood came to an abrupt end at puberty when she was told she would never menstruate nor have children. But the reasons why were never discussed and the topic was taboo. At the age of 17, Phoebe's mother felt she was old enough to understand the true nature of her body and the family secret was finally revealed.
As a documentary film-maker, Phoebe Hart intends to reacquaint herself more with intersexuality and begins a cinematic journey of self-analysis. Her sister Bonnie and her husband James join her in support. Together with Bonnie she sets off on a camera-road-trip all around Australia. Throughout her journey she seeks life stories from other intersexual people and becomes closer to them through their shared experiences.
Film awards include: Best Documentary, ATOM Awards and 1st Film at Brisbane International Film Festival 2010, Best Documentary Mix Copenhagen 2011, John Deen Memorial Award Spokane LGBT Film Festival USA 2011, lsf Hamburg 2011, Most Outstanding Documentary, Queer Fruits Film Festival 2011
www.firsthandfilms.com/index.php#film-1000334
---