Programm



So, 11. November 2012, 17:00 Uhr
Sa, 17. November 2012, 17:00 Uhr
---
Sing! Inge, Sing!
---
Sing! Inge, Sing!
D 2012, digital, 118 Min., dt.OF
R: Marc Boettcher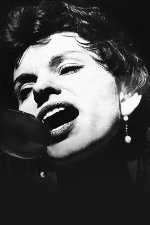 Der Jazz in Deutschland hatte eine Stimme: Inge Brandenburg.
Jahrgang 1929, aufgewachsen in schwierigen Verhältnissen, frühzeitig gewohnt, auf eigenen Beinen zu stehen. Vater und Mutter in den KZs der Nazis verloren, von den Geschwistern getrennt, kommt sie 1941 in ein geschlossenes Heim, dort hieß es dann: "Verbrecherkind!" oder: "Aus der wird nie was!" Nach dem Krieg steckte sie ihren Lehrlingslohn in Klavierunterricht, "ich wurde ein anderer Mensch. Endlich hatte ich ein Ziel vor Augen."
Ob Swing, Cool Jazz, Blues, Hillbilly oder Schlager – Inge Brandenburg mit dem bezaubernden dunklen Timbre ihrer Stimme, sang sich durch die 50er Jahre, ohne dass ein größeres Publikum von ihr Notiz nahm.
Mit ihrem Auftritt beim Jazzfestival in Frankfurt wurde sie über Nacht zum Star, zur deutschen Jazzsängerin Nr. 1.
"1958 wurde ich "entdeckt". Man feierte mich. Und ich dachte: Hoffentlich leben die "Tanten" aus den Heimen noch! Ich glaubte, dass hiermit eine große Stunde angebrochen sei, doch ich sollte mich irren."
Ein Frauenschicksal einer Zeit, in der es in Deutschland keinen Platz gab für selbstbewusste Frauen mit überregionalen Träumen, mit dramatischem Interpretationsstil und einer emanzipierten Erotik.
Dank vieler Archivaufnahmen wird die außergewöhnliche Künstlerin immer wieder sicht- und hör(!)bar - mit ihrer intensiven, ehrlichen Freude, den Jazz zu singen.
An beiden Spielterminen wird Thomas Rautenberg, der Initiator des Films, anwesend sein. Die Schriftstellerin und Ausstellungsmacherin Gunna Wendt, die viel zum Gelingen des Films beigetragen hat, ist angefragt.
English: Jazz in Germany had its own voice: Inge Brandenburg.
Born in 1929, she grew up in difficult circumstances, learning early on to stand on her own two feet. She lost her father and mother in Nazi concentration camps. Separated from her siblings, she arrives at a children's home in 1941, and here she is labelled 'criminal child!' and 'ne'er-do-well vagabond!' After the war she spent all her apprenticeship wages on piano lessons, "I became a different person. Finally, I could see an aim in my life."
Whether swing, cool jazz, blues, hillbilly music or hits – with the enchantingly dark timbre in her voice, Inge Brandenburg sang her way through the 50s, without ever having a larger audience take any real notice of her.
Following her performance at the jazz festival in Frankfurt she suddenly became a star overnight, becoming the German jazz-singer No. 1.
"I was 'discovered' in 1958. I was celebrated. And I thought: Hopefully the 'lasses' from the children's homes are still alive! I thought that now the great moment had come, but I was to be proved wrong."
A woman's fate in a time when there was no place in Germany for self-assertive women with supraregional dreams, with dramatic interpretational style and an emancipated eroticism.
Thanks to many archival recordings, this extraordinary artist will time and again be visible and audible – with her intensive, honest joy of singing jazz.
Thomas Rautenberg, the initiator of the film, will be present on both dates. The writer and curator Gunna Wendt, who has contributed much to the success of the film, is invited.
www.inge-brandenburg.de
Foto: © Salzgeber & Co. Medien GmbH
---