Programm



Sa, 10. November 2012, 21:00 Uhr
Do, 15. November 2012, 21:00 Uhr
---
143 Wagnisse · Albert Nobbs
---
Albert Nobbs
Irland 2012, digital, 114 Min., OmU
R: Rodrigo García, nach einer Kurzgeschichte von George Moore, D: Glenn Close, Janet McTeer, Mia Wasikowska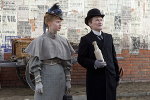 Brauntöne, warmes Licht, Historiendrama.
Glenn Close, wie ihr sie noch nie gesehen habt! Die Schauspielerin, die vor allem durch ihre Rolle als Femme fatale in Eine verhängnisvolle Affäre bekannt geworden ist, verwandelt sich dank meisterhafter Maskenbildarbeit in Albert Nobbs. Und man muss schon genau hinsehen, um Glenn Close dahinter zu erahnen, so subtil und überzeugend spielt sie die Rolle des hart arbeitenden und introvertierten Butlers in einem noblen Hotel im Irland des 19. Jahrhunderts.
Eines Nachts muss er sein Bett mit dem Anstreicher Hubert Page teilen und befürchtet die Entdeckung seiner wahren Identität. Doch auch Hubert ist nicht der, für den er sich ausgibt. Angeregt von dieser Überraschung, träumt Albert von einer Existenz, in der seine Wünsche nach trauter Zweisamkeit vorkommen und beginnt, der jungen und attraktiven Bediensteten im Hotel scheu, leicht unbeholfen, aber doch zart den Hof zu machen.
Aber kann das gut gehen in einer Welt, in der Sehnsüchte und Träume der "Kleinen Leute" nichts zählen?
Glenn Close war an Drehbuch und Produktion beteiligt. Sie wurde für ihre schauspielerische Glanzleistung mit einer Oscar-Nominierung gewürdigt, die gleiche Ehre wurde der wunderbaren Nebendarstellerin Janet McTeer und den Make-up-Artists zuteil.
Bisher hat dieser poetische Film in Deutschland noch keinen Verleih gefunden.
English: Historic drama, warm light, beiges and browns.
Glenn Close, as never before! Famous through her rôle as a femme fatale in Fatal Attraction, the actress transforms – thanks to masterful make-up artistry – into Albert Nobbs, the butler. And you have to look very closely to guess it's really Glenn Close behind the mask. So subtly and convincingly does she play her rôle of a hard-working and introverted butler in a posh hotel in 19th century Ireland.
One night he has to share his bed with the house painter Hubert Page and fears that his true identity will be discovered. However, Hubert too is not the person he says he is. Excited by this surprise, Albert dreams of an existence in which his desire for cosy twosomeness takes shape and he shyly, and a little awkwardly but nevertheless tenderly, begins to court the young and attractive maid in the hotel.
But can this all end well in a world in which the desires and dreams of ordinary people count for so little?
Glenn Close also took part in the scriptwriting and production. She was honoured by an Oscar nomination for this remarkable theatrical performance, the same award was bestowed on the marvellous supporting actress Janet McTeer, and the make-up artists as well.
This quite poetic and imaginative film has yet to find a distributor in Germany.
---
143 Wagnisse
Schweiz ab 2009, digital, s/w, je 1 Min.
R: Claudia Roemmel
Claudia Roemmel begann 2009 ein Videoprojekt, bei dem 143 "ganz normale Leute" bereit sein sollten, etwas zu riskieren, dessen Ausgang ungewiss ist. Diese Wagnisse nahm Claudia Roemmel auf Video auf und verarbeitete sie zu schwarz-weiß Videoclips von maximal einer Minute. Aus dieser Idee ist nach über 100 Videoclips eine äußerst unterhaltsame Vermessungsarbeit über Zivilcourage, Poesiefähigkeit und Schabernackpotential entstanden. Wir zeigen Nr. 006 Wilder Tilsiter, 011 Flying Cap und zwei Überraschungsclips.
English: In 2009 Claudia Roemmel began a video project in which 143 "perfectly normal people" should be ready to risk something, the outcome of which is unknown. Claudia Roemmel shot these ventures on video and processed them into black and white video clips of maximum one-minute duration. After more than 100 video clips, an extremely entertaining survey emerges from this ingenious idea, involving moral courage, poetic proficiency and shenanigans. Numbers 006 (Wilder Tilsiter), 011 (Flying Cap) and two surprise-clips are offered in our programme.</p>
---
---