Programm



Sa, 10. November 2012, 19:00 Uhr
Di, 13. November 2012, 19:00 Uhr
---
143 Wagnisse · Audre Lorde - The Berlin Years 1984 - 1992
---
Audre Lorde - The Berlin Years 1984 -1992
D 2012, digital, 79 Min., engl/dt OmU
R: Dagmar Schultz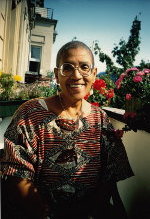 Die Dichterin Audre Lorde (1934-1992) war eine herausragende Person der schwarzen und feministisch- lesbischen Bewegung. Zeit ihres Lebens war sie politische Aktivistin. In den 1980er Jahren holte die Regisseurin Dagmar Schultz Audre Lorde für eine Gastprofessur nach Berlin. Dort stieß sie die Vernetzung und den Aktivismus der afro-deutschen Frauen an. Sie forderte und riss mit, arbeitete mit ihren Gruppen aktiv gegen den rassistischen Normalzustand in der Gesellschaft, war radikale Feministin und große Poetin. Ihre Vorlesungen sprühten vor Esprit und analysierten die Sexismen, Rassismen und die Homophobie der Mehrheitsgesellschaft scharf und klug. Der Film besteht hauptsächlich aus privaten Filmaufnahmen von Schultz, die Audre Lorde in tiefer Freundschaft verbunden war. Viele Gespräche, Diskussionsrunden und Vorlesungen hat sie jahrelang aufgezeichnet und zu einem sehr intimen und historisch wichtigen Dokument geschnitten. So erleben wir Audre Lorde nicht nur als politische Person, sondern auch als Freundin und als Frau, die 14 Jahre gegen ihre Krebserkrankung kämpfte, an der sie 1992 verstarb. (lsf Hamburg 2012)
Als Verlegerin des ORLANDA-Frauenverlags publizierte Schultz mehrere Werke von Audre Lorde, u.a. Auf Leben und Tod: Krebstagebuch und den autobiographischen Roman Zami (Neuauflage beim Unrast Verlag im März 2012). Dagmar Schultz ist Koproduzentin des Films Hope in my Heart - May Ayim von Maria Binder (Bimovie 4, 1998).
Am 17. November 2012 ist Audre Lordes 20. Todestag.
English: The poet Audre Lorde (1934-1992) was an outstanding figure in the black and feminist-lesbian movement. She was a political activist throughout her entire life. In the 1980s director Dagmar Schultz brought Audre Lorde to Berlin for a visiting professorship. Here she initiated a network and activism for Afro-German women. She called for and demonstrated a persuasive conviction, actively working with her groups against the racist normality within society. She was a radical feminist and a great poet. Her readings enthused razor-sharp wit and keenly and perceptively analysed the sexisms, racisms and homophobia within mainstream society. The film consists mainly of private recordings by Schultz, who was connected by ties of deep friendship with Audre Lorde. Over several years she recorded many rounds of discussions and readings, and edited them into a quite intimate and historically significant document. Thus, we experience Audre Lorde not only as a political individual, but also as a friend, and as a woman who fought against cancer for 14 years, from which she ultimately died in 1992. (lsf Hamburg 2012)
Through the ORLANDA women's publishing house, Dagmar Schultz has published several works by Audre Lorde, including Auf Leben und Tod: Krebstagebuch, and the autobiographical novel Zami (reissued by Unrast Verlag in March 2012). Dagmar Schultz is also co-producer of the film Hope In My Heart: The May Ayim Story by Maria Binder (Bimovie 4, 1998).
Audre Lorde's 20th Death is November 17, 2012.
www.audrelorde-theberlinyears.com
Foto: © Dr. Dagmar Schultz
---
143 Wagnisse
Schweiz ab 2009, digital, s/w, je 1 Min.
R: Claudia Roemmel
Claudia Roemmel begann 2009 ein Videoprojekt, bei dem 143 "ganz normale Leute" bereit sein sollten, etwas zu riskieren, dessen Ausgang ungewiss ist. Diese Wagnisse nahm Claudia Roemmel auf Video auf und verarbeitete sie zu schwarz-weiß Videoclips von maximal einer Minute. Aus dieser Idee ist nach über 100 Videoclips eine äußerst unterhaltsame Vermessungsarbeit über Zivilcourage, Poesiefähigkeit und Schabernackpotential entstanden. Wir zeigen Nr. 006 Wilder Tilsiter, 011 Flying Cap und zwei Überraschungsclips.
English: In 2009 Claudia Roemmel began a video project in which 143 "perfectly normal people" should be ready to risk something, the outcome of which is unknown. Claudia Roemmel shot these ventures on video and processed them into black and white video clips of maximum one-minute duration. After more than 100 video clips, an extremely entertaining survey emerges from this ingenious idea, involving moral courage, poetic proficiency and shenanigans. Numbers 006 (Wilder Tilsiter), 011 (Flying Cap) and two surprise-clips are offered in our programme.</p>
---