Programm



So, 07. November 2010, 19:00 Uhr
Sa, 13. November 2010, 21:00 Uhr
---
Die Hebamme
---
Die Hebamme
D 2010, 90 Min., dt.OF, Digibeta
Regie: Dagmar Hirtz, Kamera: Jo Heim, Schnitt: Nicola Undritz, DarstellerInnen: Brigitte Hobmeier, Misel Maticevic, Pippa Galli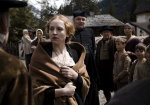 Im Jahre 1815 hoch oben in einem Tiroler Bergdorf. Die Berge sind in den Aufnahmen genial kantig und steil - sie lassen unweigerlich das mühsame Leben von damals spüren. Der Film erzählt die auf wahren Begebenheiten beruhende Geschichte der Hebamme Rosa Koelbl. Sie ist erfahren, mutig und angesehen; besonders die Frauen in der Region schätzen ihre Kunst. Rosa hat das über Generationen gesammelte Wissen von ihrer Mutter übertragen bekommen und setzt sich für die Rechte der Schwangeren ein. Nicht ohne in Konflikt zu kommen mit der tradierten, männlich dominierten Umgebung. Stark wie sie ist, kann kein noch so scheinheiliges Angebot sie korrumpieren. Ein Film, der uns mit Spannung und Erzählkunst in eine alte Zeit führt, wunderbar fotografiert und montiert und am End doch brandaktuell ist.

Überragend und leuchtend: Brigitte Hobmeier als Die Hebamme. Anschließend Gespräch mit Gästen! Eingeladen sind die Regisseurin und die Darsteller_innen aus München, sowie Nina Rensch, die als Hebamme in München arbeitet.
English: In 1815 high up in a Tyrolean mountain village, shots of the mountains are divinely rugged and steep, and their impact - an unavoidable experience of the arduous life of those times is compelling. The film is based on the true story of the midwife Rosa Koelbl. She is experienced, brave and respected, and especially the women in the region value her talents. Rosa received all her mother's knowledge, gathered over generations, and fights for the rights of the pregnant women, but not without coming into conflict with the traditional, male-dominated environment. As strong as she is, not one such hypocritical proposal can corrupt her. A film that leads us into bygone days, with suspense and fine storytelling, wonderfully photographed and composed, and which ultimately, is still cutting-edge material. Outstanding and lucid: Brigitte Hobmeier as Die Hebamme (the midwife).

Afterwards, discussion with guests! The director and the Munich actors, as well as Nina Rensch, a midwife working in Munich, have been invited.
http://www.roxyfilm.de/hebamme.html
---