Programm



Sa, 06. November 2010, 23:00 Uhr
Do, 11. November 2010, 21:00 Uhr
---
Prada Handbag · Paris is Burning
---
Prada Handbag
Australien 2007, 22 Min., engl.OF, Beta SP
Regie+Buch: Stuart Vauvert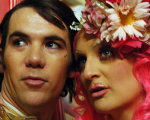 Wenn ein Mädchen von den Eltern auf den Namen PRADA HANDBAG getauft wird und ihr, als wäre das noch nicht genug, auch noch alle Haare ausfallen, so dass sie Perücken tragen muss, ja, was dann passiert, erfahren wir in Prada Handbag.
English: When a girl is given the name PRADA HANDBAG and, if that isn't enough, her hair all falls out in childhood, so that she has to wear wigs - in which profession is she bound to find happiness?
---
Paris is Burning
USA 1990, 74 Min., OmU, Beta SP
Regie: Jennie Livingston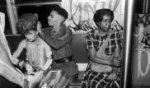 Diese mehrfach preisgekrönte Dokumentation katapultiert uns zurück in die 80er Jahre, in die schwarze und Latino-Subkultur New Yorks. Aus der Provinz sind sie hierher gezogen, weil nirgends sonst ein Überleben möglich ist. Sie sind schwul oder transgender und arm. Sie haben kein Zuhause. So treffen sie sich auf den "Balls". Hier gibt es Solidarität, aber auch Wettbewerb. Sie treten gegeneinander an in verschiedenen Rollen. "To be real" ist das Ziel. Diese Tanzwettbewerbe sind ihr Leben zumindest bei Nacht. Draußen brennen die Mülltonnen. Tagsüber gehen sie auf den Strich, aber nachts sind sie die Queens der overwhelming dance scenes.


Hier wurde das Vogueing erfunden. Pepper LaBeija im goldenen Ballkleid. Don't miss it!
English: This multiple award-winning documentary beams us back into the 1980s and into the Black and Latino subcultures of New York. They have moved here from the provinces, because nowhere else is there any chance of survival. They are gay or transgender, and poor. They have no homes to go back to. So they meet up at the 'balls'. They find solidarity here, but contests as well. They compete against each other in various rôles. The aim of the game is 'to be real'. These dance competitions represent their life, at least at night. Garbage containers burn outside. During the day they work the streets to turn tricks, but at night they are the queens of overwhelming dance scenes. It was here that vogueing was conceived.

Pepper LaBeija dressed in a golden ball gown. Don't miss it!
---