Programm




Fr, 12. November 2010, 23:00 Uhr
---
Das Grüne Schaf · Louise Hires a Contract Killer
---
Das Grüne Schaf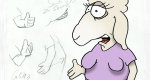 D 2009, 4 Min., dt.OF, DVD
Regie: Carsten Strauch
In Das Grüne Schaf erzählt eine tierisch nette Patchworkfamilie aus ihrem bunten Leben.
English: In Das Grüne Schaf, an extremely nice patchwork family presents excerpts from their colourful life.
---
Louise Hires a Contract Killer
F 2008, 94 Min., dt.F, 35 mm
Regie: Gustave Kervern & Benoît Delépine; DarstellerInnen: Yolande Moreau, Bouli Lanners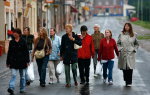 Die schärfste Antwort auf die Finanzkrise. Eine pechschwarze Komödie. Gestern gab's noch Geschenke vom Chef. Jetzt steht die Fabrikhalle leer: die Maschinen nach Asien verschifft, die Arbeiterinnen verschaukelt. Was tun mit der Abfindung? Louise hebt den Finger: "Das reicht für 'nen Profi - lasst uns den Boss abknallen!"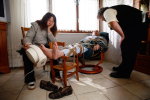 Louise Hires A Contract Killer ist eine anarchistische, politisch unkorrekte, schräge Komödie, die den globalen Kapitalismus ins Fadenkreuz nimmt. Was man wörtlich nehmen kann. Mit einer so stringenten Logik, dass man sich fragt, warum das nicht öfters passiert.
English: It is the most acidic response to the financial crisis, and a pitch-black comedy. Yesterday there were gifts from the boss. Today, the factory halls are completely empty: the machinery has been shipped to Asia, the women workers have been sold down the river. What's the best bet with the redundancy money? Louise raises her hand: "It's enough to hire a pro - let's get the boss blown away!"

Louise Hires A Contract Killer is an anarchistic, politically incorrect, weird comedy, which places global capitalism squarely in its firing line, literally! With such compelling logic, one asks why it hasn't happened more often?
http://www.koolfilm.de/LouiseMichel/louisemichel.php4
---