Programm



Mo, 02. Juni 2008, 21:00 Uhr
Mi, 04. Juni 2008, 19:00 Uhr
---
The Uncertainty Principle · F.Scott Fitzgerald slept here
Man wird nicht als Mann geboren
---
The Uncertainty Principle
Australien 2006, 15 Min., Farbe, Beta SP, OF
Regie: Jacqui Schulz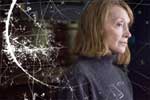 The Uncertainty Principle lässt zwei scheinbar gegensätzliche Protagonistinnen aufeinander prallen: Die transsexuelle Schönheitssalonbesitzerin Nelly und die an Krebs erkrankte Physikerin Elizabeth - und plötzlich geht es um den Sinn des Lebens, um Religion und Wissenschaft, um Erziehung und Tod.
English: The Uncertainty Principle has two apparently very differing protagonists clashing with each other: The transsexual beauty salon owner, Nelly, and the physicist, Elizabeth, suffering from cancer – and suddenly it's all about the meaning of life, religion and science, about upbringing and death.
---
F.Scott Fitzgerald slept here
USA 2007, 25 Min., Farbe, Beta NTSC, OF
Regie: Jules Rosskam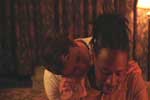 Paul ist ein Transmann, der die Grenzen seines neuen Geschlechts auslotet wie andere den Tacho ihres neuen Autos. Gordon ist Afroamerikaner und schwul und möchte akademische Karriere machen. Im Lauf des Films wird deutlich, dass beide mit demselben zu kämpfen haben: ihren Platz in der Gesellschaft zu finden.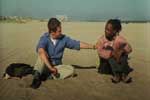 English: Paul is a trans-man, who experiments with the limitations of his new gender just as others the speedometer of their new car. Gordon is Afro-American and gay and is intent on an academic career. In the course of the film, it becomes clear that both of them are striving for the same thing: To find their place in society.
---
Man wird nicht als Mann geboren
Frankreich / Belgien 2004, 55 Min., Farbe, DigiBeta, OmdtU
Regie: Agnès Bert
In den Bergen Nordalbaniens gilt die aus dem Mittelalter stammende Gesetzessammlung "Kanun" bis heute. Sie regelt den Alltag und das gesellschaftliche Leben der Menschen. Die Dokumentation berichtet über eine besondere Bestimmung des "Kanun", nach dem eine Frau als Mann leben darf.
Nach dem "Kanun" können Familien, die Vater und Sohn verloren haben und so ohne Familienoberhaupt dastehen, ein Mädchen als Stellvertreterin bestimmen. Diesen Status können auch junge Mädchen erlangen, die nicht heiraten wollen. Voraussetzung ist, dass sie Jungfrauen bleiben und ein unwiderrufliches Keuschheitsgelübde ablegen.
Um ihrem Schicksal als Frau zu entgehen, verpflichten sich manche Mädchen bereits mit zehn Jahren, wie Jungen erzogen zu werden. Als Erwachsene werden diese Mann-Frauen hoch geachtet und haben in der Familie großen Einfluss.
English: In the mountains of Northern Albania, the "Kanun" law codes stemming from the middle ages, are still valid today. They regulate the everyday events and societal life of the region's inhabitants. The documentary reports on a particular aspect of the "Kanun", by which a woman may live as a man.
According to the "Kanun", families that have lost father and son and thus are without a patriarch may choose a girl as representative. Young girls who do not wish to marry, can also achieve this status. A prerequisite is that they remain chaste and profess an irrevocable solemn vow of chastity.
In order to avoid their fate as a woman, some girls commit themselves – sometimes as young as ten years – to being brought up as boys. As adults, these man-women are highly regarded and have a great influence within the family.