Programm



So, 01. Juni 2008, 19:00 Uhr
Do, 05. Juni 2008, 21:00 Uhr
---
Lakshmi and me
---
Lakshmi and me
Indien 2008, 59 Min., Farbe, Digibeta, OmeU
Regie: Nishtha Jain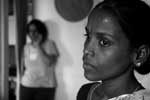 "Welche Sünde habe ich begangen, dass ich als Frau geboren wurde?", fragt sich Lakshmi. Sie ist 21 Jahre alt, wohnt in Mumbai und arbeitet als Hausmädchen. 10 Stunden am Tag, 7 Tage die Woche. Eine ihrer Arbeitgeberinnen ist Nishta Jain. Die Beiden haben nicht viel miteinander zu tun, bis Nishta beschließt, einen Film über ihre Beziehung zu drehen. Während des Drehs wandelt sich Lakshmis Leben dramatisch. Sie erkrankt und wird schwanger. Ihr Vater ist gegen eine Heirat, denn Lakshmis Freund entstammt einer niedrigeren Kaste. Nishta sieht sich gezwungen, viele Dinge zu hinterfragen, die ihr bisher selbstverständlich erschienen. Wo sind die Grenzen zwischen Film, Freundschaft und ihrem Arbeitsverhältnis? Ein brisanter und reflektierter Film über Klassenschranken, Frauenrechte, Tradition und Moderne in Indien und auch anderswo.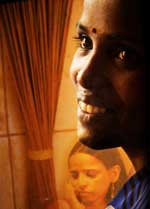 "Ich habe öfter über unsere Lebenswege nachgedacht - zwei Frauen, die beide darum kämpfen, in Mumbai Fuß zu fassen." Nishta Jain
Die Regisseurin Nishta Jain ist angefragt.
English: "Which sin have I committed, that I was born as a woman?", Lakshmi asks of herself. She is 21 years old, lives in Mumbai and works as a housemaid. 10 hours a day, 7 days a week. One of her employers is Nishta Jain. The two of them don't really have much to do with each other, until Nishta decides to make a film about their relationship. During the shooting, Lakshmi's life changes dramatically. She falls ill and becomes pregnant. Her father is against a marriage, since Lakshmi's boyfriend comes from a lower caste. Nishta feels compelled to reassess many things that had until now appeared to be quite self-evident. Where are the limits between film, friendship and their work relationship? A volatile and reflective film on class barriers, women's rights, tradition and modernity in India as well as elsewhere.
" I have often thought about our journeys through life – two women who both struggle to settle down in Mumbai." Nishta Jain
The director Nishta Jain, has been asked to attend.
---